APM
est une association caritative indépendante, active en Chine depuis 1999. Notre équipe de plus de 50 bénévoles agit pour aider les plus démunis en Chine.
Nous donnons une nouvelle vie à tout ce dont vous n'avez plus besoin. Certains articles sont
redistribués directement
, d'autres sont
vendus
pour lever des fonds.
En 2016, nous avons aidé à améliorer la vie de plus de
15 000 personnes démunies: hommes, femmes et enfants.

Notre objectif est de faire encore plus en 2017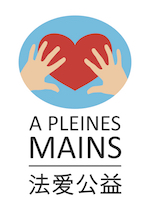 APM
is an independent charity, active in China since 1999: a team of more than 50 volunteers working to help the poor and needy in China.
We give a new life to your unwanted items, which are either
sent directly
to the charities we support, or
sold
to raise funds for them.
In 2016, we helped improve the lives of more than
15,000 needy people: Men, Women and Children.

With your help, we aim to do even more in 2017